Considering buying your first home in Philadelphia or anywhere can be equally exciting and confusing. When's the right time to start looking? How much can you actually afford? What makes a home a good investment?
We're breaking down our top ten most asked questions from first-time home buyers in this comprehensive Q+A guide. For current real estate trends and market recommendations, check out our post Philadelphia Real Estate Market Update (April 2023).
How do I know when it's time to stop renting and buy my first home?
Deciding to stop renting and buy your first home is a two-fold decision, driven by two main factors: financial and emotional.
Financially, renting offers flexibility and less risk as your commitment to pay is only as long as your lease term. However, renting long-term means paying money every month that you will never get back. Consider how much you're actually spending over the term of your lease. If you pay $2,000 per month in rent for 4 years, that's $96,000 spent in total. By contrast, $96,000 is a 20% down payment for a $480,000 home, which in the Philadelphia real estate market can get you a wonderful house!
On the emotional side, a home purchase is a commitment to a specific area and to a single space. If you're still exploring cities or neighborhoods, renting can be a great option to get to know an area. Once you know the neighborhood you love and you're starting to imagine personalizing, designing, and furnishing your own home - it's time.
Curious about Philadelphia's best neighborhoods to buy a home? Check out our Philadelphia neighborhood guide!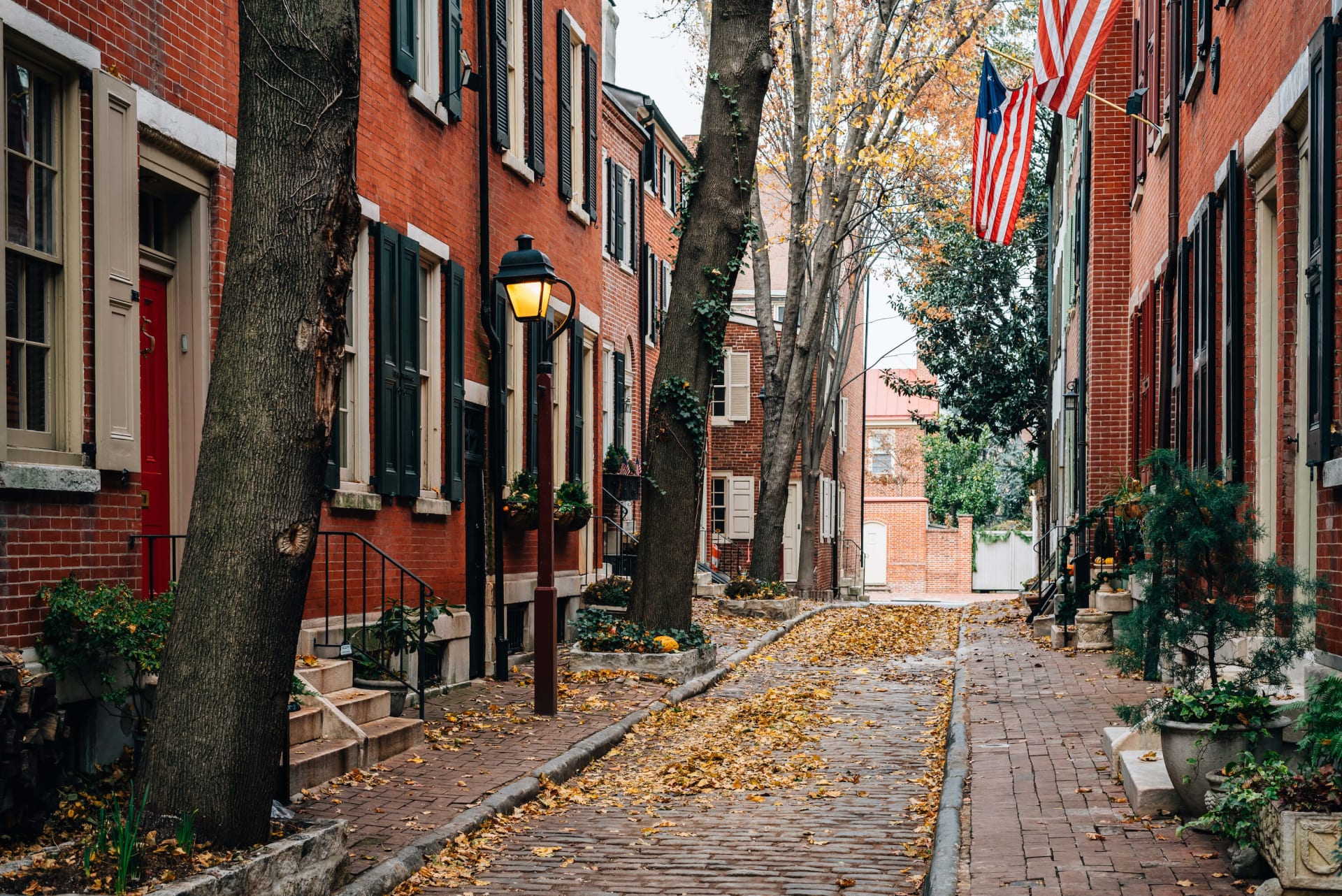 What can I actually afford?
Figuring out the price range of homes you can afford doesn't have to be complicated. What you can afford depends on a few key factors:
Current interest rates

How much money you want to put down

The structure of your mortgage
Explore your options with our mortgage calculator below.
What does the process of buying a house actually look like?
Knowing what to expect can help you be better prepared as you begin searching for a home. The steps below outline what a typical home-buying process looks like.
Find a buyers' agent you trust
Once you decide you want to buy and know the basics of what you're looking for (location, price range, type of home), the best thing you can do is get an agent on your side right away. Real estate agents do more than write up paperwork or help you when it's time to close. They can actually guide you through the home-buying process, explore mortgage options, discover upcoming listings, and help you make the most of your budget.
Start your search
With your ideal price range, location, and with your desired features in mind, your agent will compile a list of properties or new developments that fit your criteria. You can review this comprehensive list and decide which listings interest you. Your agent will schedule the home tours and should accompany you to showings to help ask and answer questions, point out key information, and guide you through the process.
Make an offer
Once you have narrowed down your options and are ready to make an offer on a home, your agent will draft all of the necessary paperwork to present your offer to the sellers. Depending on the initial offer, there may be negotiation necessary to reach an agreement on price and any additional incentives. Your agent will negotiate in your interest to secure the home you want for you within your selected budget.
Become a homeowner!
Once an agreement is reached between you and the sellers, your agent will guide you to settlement. This includes ordering necessary inspections, titles, and transferring the home and all utilities into your name before you ultimately close on the home. Then, it's time to celebrate becoming a homeowner!
What features can make a home a good investment?
There are a wide variety of features that maximize the potential resale value and appreciation of a home. While it's nearly impossible to find a home that checks every box on this list, a good strategy is to look for a property with an intersection of a few of these key elements.
Important variables include proximity and walkability to neighborhood amenities, the home's potential for renovation or updates, outdoor space, parking, and the current and future growth of a given neighborhood.
If you're looking to buy a home in the Philadelphia market, there are a few things you can do to optimize your investment. Neighborhoods that are experiencing high growth and developing residential and retail spaces see properties appreciate in value over time. Consider a neighborhood like Northern Liberties, Fishtown, or Passyunk Square for a great investment.
Another great way to increase the future value of your home is to invest in high-quality finishes if you're renovating or remodeling. Consider buying an under-construction home that allows you to have input when it comes to finishes and design. This gets you maximum resale value, plus a home that's suited to your personal style when it's time to move in.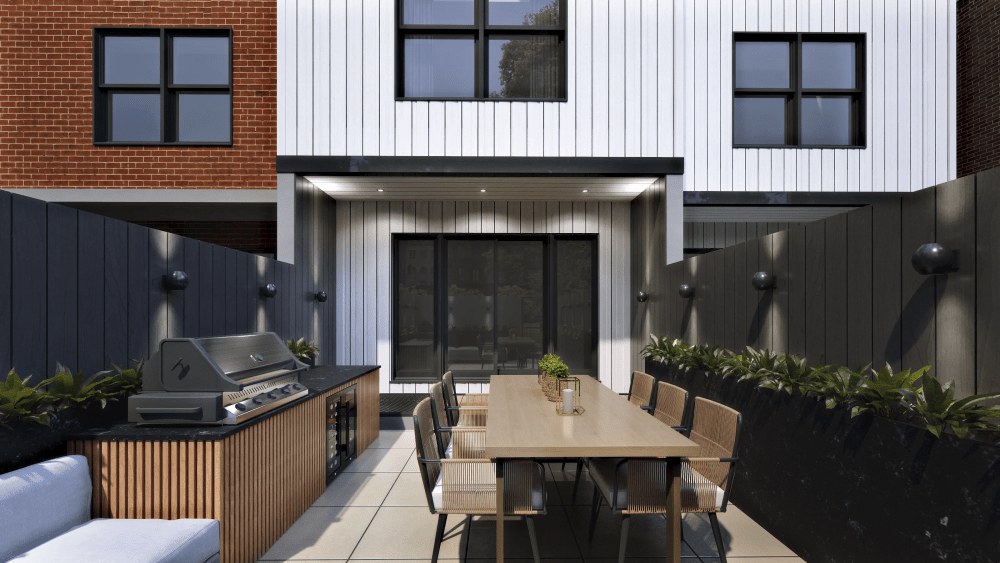 In a city like Philadelphia, private outdoor space can significantly increase your property value.
What questions should I be asking about a house before buying it?
It is important to understand the recent history of a home before purchasing it. Some key questions that you as a home buyer should have your realtor ask the sellers are:
Is there a seller's property disclosure?
A seller's property disclosure is a full multi-page document filled out by the seller which details the home's history through their ownership. This covers everything from utilities and structural details to recent renovations and changes made to the home during their time there.
Is there a lead-based paint disclosure?
For all homes built before 1978, a lead-based paint disclosure shares any information available about the past presence of lead in the home, or the use of lead-based paint or lead-based hazards that exist in the home.
Have there been any recent improvements, renovations, or repairs?
Any changes that have been made to the home, whether out of necessity or simply stylistic upgrades or additions, can add value to the home and can save you money down the line in repairs while elevating the home's value as an investment.
What school districts do I want to focus on?
School district boundaries are often a big consideration for families with school-age children or those who plan to start a family in their new home. There are a few considerations prior to selecting a school district, whether you plan to enroll your children in public, private, charter, or alternative schooling programs. Some of these options require you to live in certain neighborhoods in order to attend, while others are merely more convenient for commuting and inspiring a sense of community.
Browse and search for school catchment areas in Philadelphia using this tool, which can help narrow your focus when selecting neighborhoods for your home search.
Is it possible to design my own home?
As a first time homeowner, designing your own home might seem like a far-off dream. In reality, designing your home can be affordable and make a great long-term investment!
It's possible to step into the home design process at a few different points. You can work with a developer to design a completely custom new construction home, or you can collaborate on the finishes and final selections for your home that's currently under construction. Specialized teams of realtors and developers can present you with in-progress projects that haven't yet sold, and allow you to step into the design process.
Beyond customizing a home to your specifications, working with developers can mean choosing finishes that will stand the test of time and optimize your home's potential resale value. Here's an example from one of our current under-construction homes in Philadelphia. This Rittenhouse Square home is in a prime location and currently undergoing renovation. A buyer can choose from a variety of finishes, like light or dark-style bathroom finishes.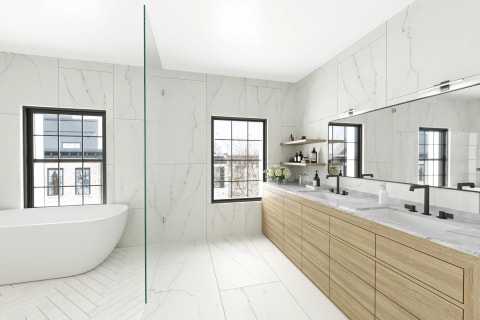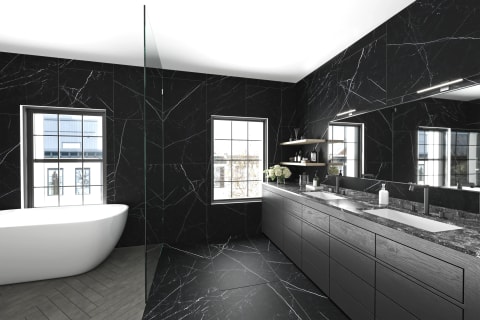 Choosing your finishes in a new home can increase potential resale value and make your home truly customized to you.
How long does the process of buying a home take?
Ideally, your home search should begin at least 90 days before you hope to move. From there, you can begin the process of financial pre-qualification, discuss what is important to you in your future home, and begin looking at properties. Once a home is selected and placed under contract, the average time to closing is 30 to 60 days. This process can vary in the amount of time it takes, but it is never too early to start the conversation.
One of the biggest mistakes we see first-time home buyers make is putting off working with a real estate agent for too long in the home search process. Working with a buyers' agent saves you time, can make you aware of listings before they hit the market, and can help you secure a better deal on your new home. Rather than spending time browsing Zillow on your own, spend some time researching realtors until you find the team that's best suited to guide you in your home search.
How much money do I need to put down to buy a home?
This will vary depending on your financial picture and the lending options available to you. Traditionally, between 5-20% is the standard down payment range. Less is uncommon, and more is unnecessary. By opting for the upper end of this range, you lower your monthly payment, however, there are creative options that allow you to come to the table with less cash if that is a goal.
What are some key things to look for when buying a home?
It's easy to get wrapped up in small details when buying your first home, and the options are overwhelming. These are the most important things to consider when buying your first home to make sure you end up in a home you love.
Location, location, location
You can change almost everything else, but you can't change your home's location. When you're house hunting, consider proximity to your work, how the home is situated on the lot, ease of access, noise from neighbors, and the level of traffic. It's also important to think about access to parks, shopping, schools, and public transportation.
It's not only important to be familiar with the location now, but to understand what it might look like in a few years. Understanding where a neighborhood is headed is an often overlooked but crucial factor in buying a home. For more insight into Philadelphia neighborhoods, check out our buyers' guide to Philadelphia neighborhoods.
The Site
Beyond location, look at the site of the home. If the home is on a hill, does it have a view, a walkout basement, or lots of stairs to climb? Do neighbors' windows look directly into the home? Is the yard suitable for kids, pets, gardening, or other uses? If you plan to be in the home long-term, think about how your accessibility needs might change as you age.
The Neighborhood
Be sure the neighborhood, and not just the house, meets your expectations. To research a neighborhood, drive around on weekdays and weekends, during the day and in the evening. Sit in a local coffee shop and chat with the locals, and do ample research about a neighborhood to get familiar with it.
The Home's Curb Appeal
Your home should reflect your design preferences and your lifestyle. Curb appeal can be a major factor in resale value, and should make you truly happy as you settle into your first home. Many first-time home buyers figure they will buy a "fixer-upper", but never actually get around to renovating it themselves. We recommend buying a home that's move-in ready and maximizing your investment by choosing the right location and high-quality finishes.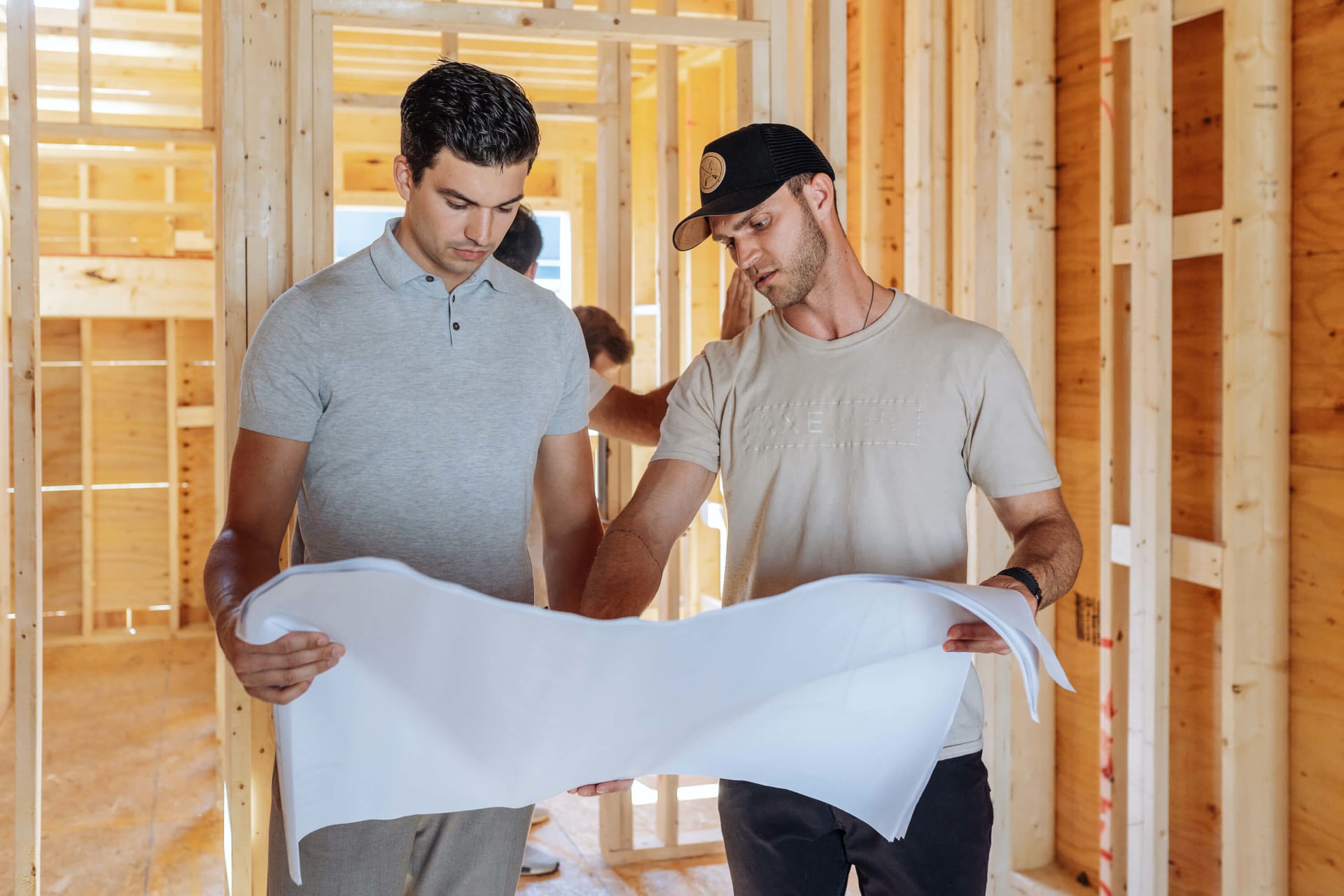 Unless you have years of construction experience under your belt, consider buying a new construction home or working with a development team to renovate your home prior to moving in.
The Size and Floor Plan
Determine the right size home for you, as well as your ideal floor plan, prior to house hunting, and try to stick as closely as you can to that. Realistically consider the space and layout you'll need for your lifestyle now and for the duration you plan to stay in the home. If you plan on having kids in the next few years, is the home you're looking at suitable for that? Is the master bedroom where you'd like it to be? If you love being a host, does the layout make it easy to entertain? If you're an avid cook, is the kitchen big enough for you?
This is where designing a home can play a huge role in making sure a home works for your needs. Talk to your real estate agent about current construction if you have needs you know you want to bring to life.
Bedroom and Bathroom Count
Decide how many bedrooms and bathrooms you need, and only look at homes that meet your criteria. Think about who will be living in your home now and who might be in the future. If there's the potential that you'll have kids, take in relatives, or plan to rent rooms to roommates, factor that into your bedroom and bathroom count.
Closets and Storage
Older homes tend to have small closets and not a lot of storage space overall. Newer homes tend to have ample storage space. If closet space is important to you, you might want to start by only looking at newer constructions or recent renovations.
Windows and Lighting
Check out the views from the windows and how much natural light they let in. Look especially at the views and lighting from the windows in living spaces where you'll spend most of your daylight hours. Note where there are built-in light fixtures and outlets in each room. You can always add artificial lighting and outlets later, but it's nice to have that in place when you move in.
Ready to start the home-buying process in Philadelphia?
Browse our portfolio of handpicked, move-in ready homes in prime locations, or work with us from concept to completion as our development partners design a home to your exact specifications. Get in touch →