Now more than ever, first-time home buyers are considering new construction or renovated homes in the city and neighboring suburbs. New construction homes can offer move-in-ready, luxury builds with high quality craftsmanship, offering buyers a great investment as well as the chance to live in a home they love. Keep reading to learn more about how buying new construction works, things to consider, and whether it's the right choice for you. For current real estate trends and market recommendations, check out our post Philadelphia Real Estate Market Update (April 2023).
The Philadelphia Real Estate Market: What's for sale?
If you've been looking to buy a home in Philadelphia, you're likely to find one of three things:
The first is a gorgeous, newly renovated home that's modern on the inside with classic charm on the outside, located in a prime location like Old City or the heart of Rittenhouse. Unfortunately, these homes run into the millions of dollars, making them unattainable for the majority of home buyers.
The second thing you'll find is a new construction home, built in a row of homes that look just like it, in an area that's not your first choice. You have no idea about the quality of the construction, no say over the design, and aren't thrilled with the location.
Third, you'll find an old-school home on a great block that's a total fixer-upper. If you're not working with an experienced builder or willing to spend thousands of dollars and hours learning the DIY renovation process, this home ends up costing you more than it's worth by the time you sell again.
So, what's the alternative for first-time or other home buyers looking for a luxury home that's a great investment?
Many buyers don't know this, but there's a secret option number four in the Philadelphia real estate market! Real estate firms exist that sell individual townhomes (not blocks of cookie-cutter new constructions) and allow you to be involved in the renovation process of your home from start to finish.
How it works…
As a real estate and development team, we scout properties for sale in the best neighborhoods in Philadelphia that are great investment opportunities. We partner with developers and designers to create floor plans and renderings of homes after renovation, and add them to our portfolio as we begin construction. As a buyer, you can check our portfolio of listings coming soon, and can actually buy a home before it's completely renovated! This lets you work with us as we choose finishes, select styles, and make design decisions about your home. By the time you move in, you've made a fabulous investment and have a home you love that's ready to live in.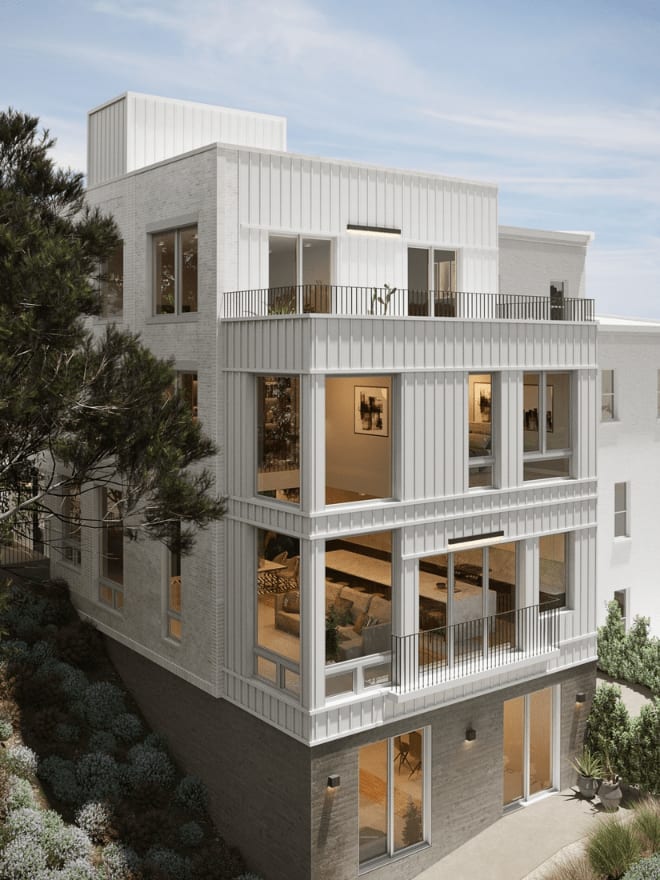 Customize your home to suit your style, plus optimize resale value.
When designing a home, it's important to consider your style as well as what will be easiest to resell when the time comes. Working with a development team you trust can give you guidance as to what design decisions to make.
The scope of what can be customized in a given home depends upon where you are starting, whether with an existing structure or a new construction home. What's possible in a renovation or build is based on size limitations, and the existing layout you might be working with. It's important to have an honest conversation with your real estate team and developers to discuss your vision and what's possible for your home.
The layout can be redefined within a given space to accentuate certain rooms or areas of focus. If you love to entertain, you might consider an open floor plan from the kitchen to the living room! Color palette, cabinet style, countertop and tile selection, as well as overall aesthetic are all much easier selections to make when you're first building or renovating than later once it's time to sell. The selections can be based on the mood of the neighborhood and your personal preferences. Resale value can be increased by selecting finishes that are both timeless and tasteful. Think neutral colors, high quality materials, and functional spaces.
How does this work if a home is already partially completed?
If a home is already under renovation, your input will be limited to what is not finished yet. The good news is that even small tweaks to the interior design can help to personalize the aesthetic and enhance your space. The best way to ensure you're a part of the process early is to find a real estate team or developer whose style you love, then connect with them and let them know what you're looking for. They can update you about upcoming projects and give you first choice of new properties that suit your style and needs.
What's the difference between a custom and semi-custom home?
Imagine a custom home as a blank document, while a semi-custom home has already been outlined. When it comes to a fully custom home, the client has complete and total discretion on all aspects of the design from project acquisition to layout to design selections.
Semi-custom homes offer a high degree of personalization, but only in certain aspects of the home, often more focused on finishes.
If your budget and timeline is more flexible, a custom home can be a great choice to get exactly what you want. If you're not as design-inclined, need more guidance, or are working with a limited budget or timeline, a semi-custom home is the perfect option for you.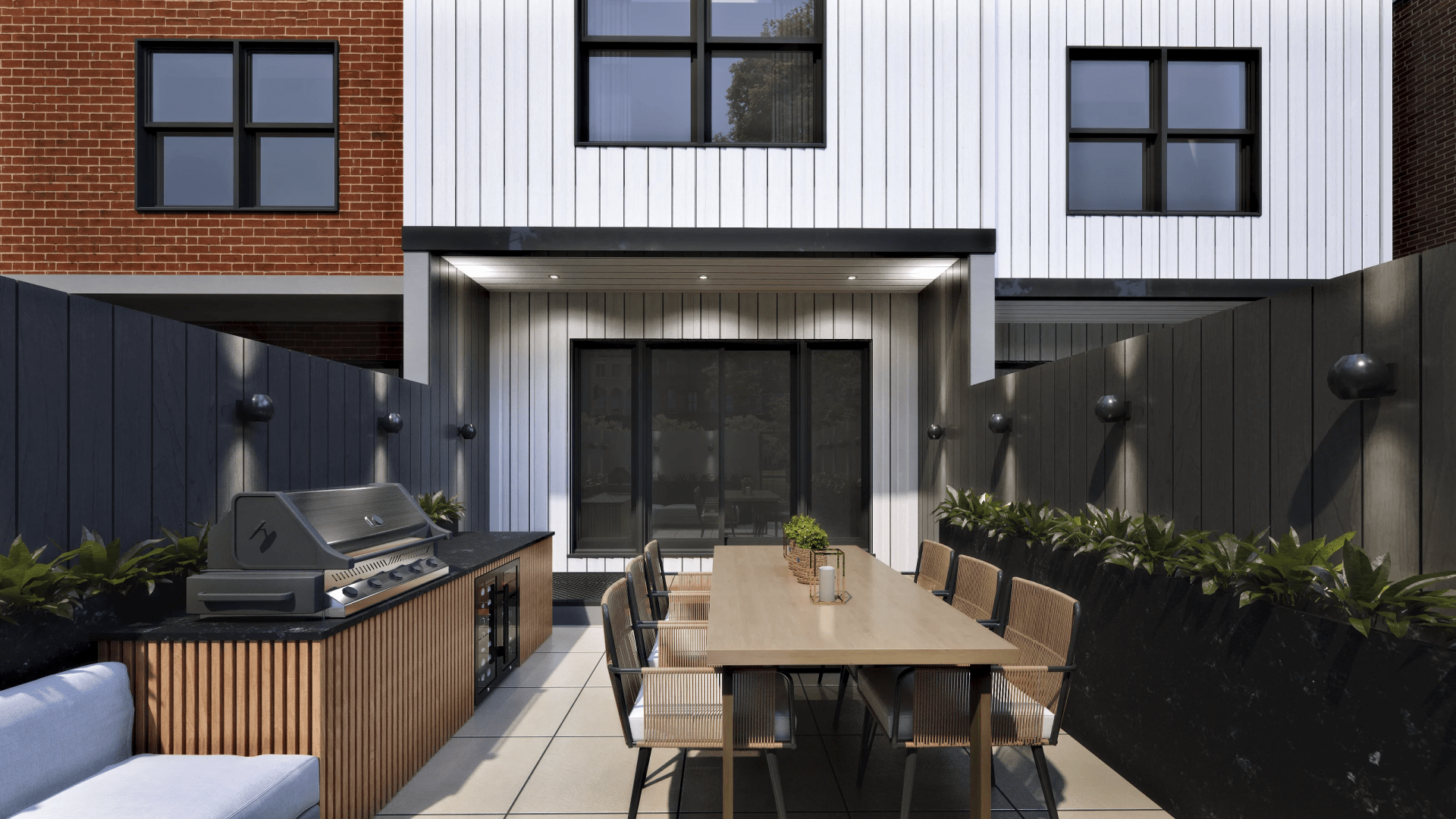 Understand what's your responsibility when you buy a home under construction.
Buying a new construction home or a home under renovation looks a little bit different than the typical buying process. While it offers many benefits, it's important to understand what your role and responsibilities will be when you buy a new construction home.
How do inspections work?
There are a series of inspections throughout the construction process to ensure that the client and builder are in agreement throughout the various phases of construction. Inspections can be official and unofficial with onsite meetings to confirm preferences in selection as well as with third-party professionals who monitor the more technical aspects of the construction. Your real estate team will guide you, but you should expect to be involved with updates and potential site visits if you want to see how your home is coming along.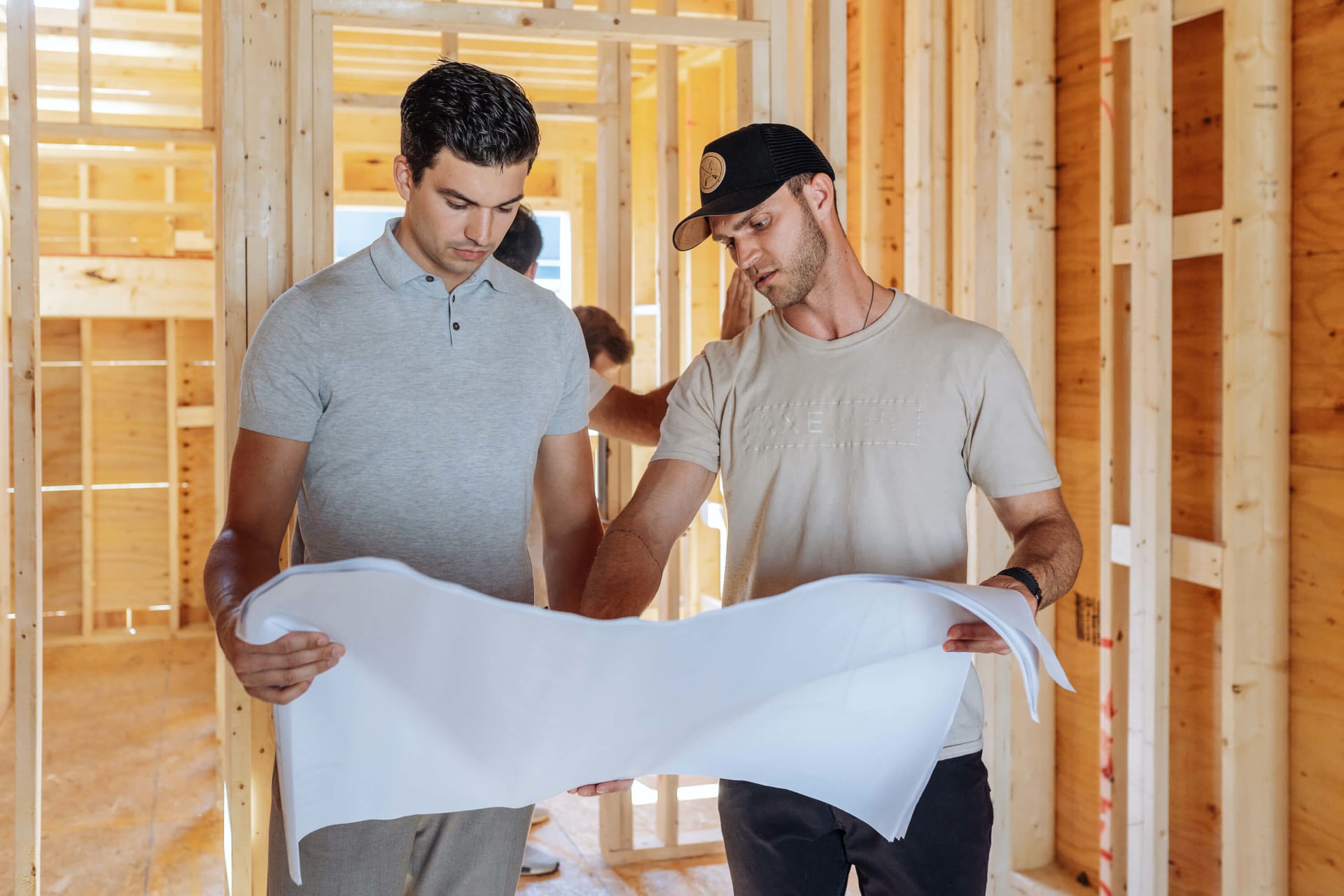 Do buyers and builders work together directly?
As your real estate team, our role is to act as a liaison between you and the builder to ensure that all expectations are met and that the project stays on the projected timeline. We're always transparent about who we work with, and encourage clients to be as involved in the process as they want! However, if you don't know much about home construction or don't want the responsibility of being on-call for a builder, working with a real estate team is the ideal solution for you.
How do warranties work?
Warranties are services that extend beyond the installation of a product or component of a home, acting as insurance of the product's performance for a designated amount of time. Speak with your real estate team about the warranties available to you as a new construction home buyer.
Paying for a new construction home
How does the payment work if a home isn't ready yet?
When you agree to buy a new construction home, a deposit is placed in escrow in order to secure the future project or home to be, and as the project progresses through the following phases of construction additional deposits are given. The full agreed-upon sale price of the home is not due until the home is complete and settlement is scheduled. This makes buying a new construction home a great option if you need a few more months to save and plan the finances of your purchase, but are ready to choose a home today.
Can your design choices impact the price of a home?
Absolutely. Material and design choices are defining factors in price, from the quality of finishes selected to the level of upgrades. Much like with any purchase or an eventual sale of a home, the way that it is maintained, designed, and laid out can affect the ultimate resale value. It's best to let your real estate team know your final budget up front so they can help you maximize it with the best selections possible.
Are appliances included, or will you need to purchase your own?
This varies based on your real estate and development teams. At MUVE | PHL, all of our new construction and renovated homes are furnished with a full appliance package as well as appropriate and industry-standard utilities. The goal is to make move-in as easy as possible, and resale as profitable as it can be.
Is buying a fixer-upper a better investment than a new construction?
Many first-time home buyers believe that to "make their money back" or make the best investment they should buy a "fixer-upper" and renovate it themselves. While this seems like a great idea in theory, it very rarely pans out that way for a few reasons.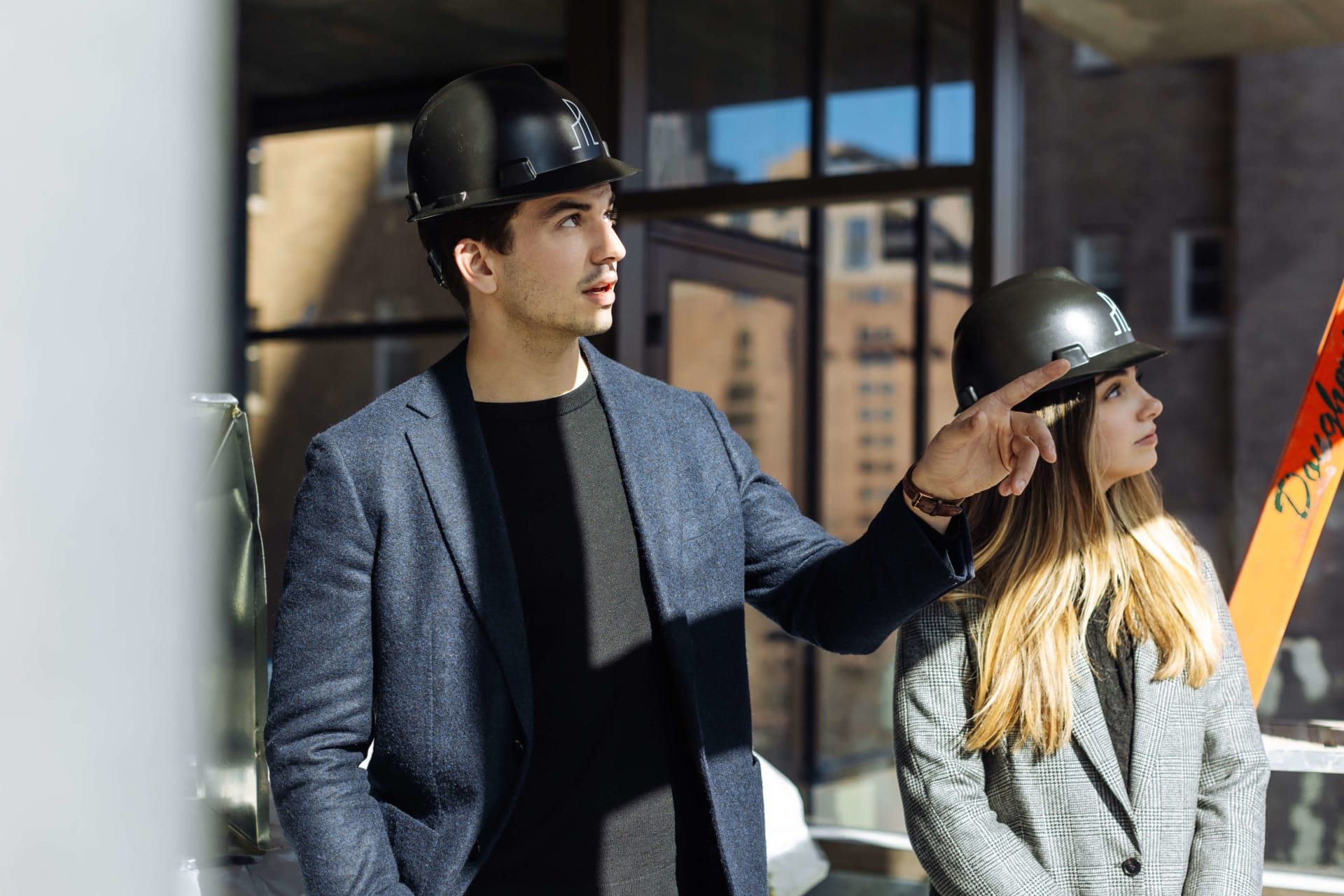 DIY is more expensive than it seems
When you work with a builder, they already have relationships with suppliers and are getting the best rates on materials and labor. When you choose to DIY, you'll have to research, sample, and source everything on your own. This comes with a learning curve, and often leads to costly mistakes. The cost of materials alone, as well as the possibility that you'll have to call a professional to repair any damage that might occur, is a big deterrent for many potential DIY-ers.
Professional construction has higher resale value than DIY renovations
When you eventually go to sell your home and a potential buyer requests an inspection, the true costs of DIY "upgrades" are often revealed. Especially plumbing, electrical, or structural work, but even cosmetic upgrades that aren't up to professional standards can end up costing you when it's time to sell. When you design your home with professional developers, you'll get the benefit of personalization without the risk of of a "fix it" list from buyers down the road.
Check out this article from the Chicago Tribune, Your DIY home renovation project may actually lower its value. 10 things to know before you start the work.
Consider the time you'll be living there, not just the time when you're ready to sell
A big disadvantage of buying a fixer-upper is that for much of the time you live there, it's not the home you want it to be. The true value of a custom or semi-custom renovation is in its personalization and character. Renovating from the start, rather than when you're ready to sell, means you'll actually get to enjoy the home you've built and make the most of your time living there. A better investment than a fixer-upper in a great neighborhood is a custom home in a neighborhood that's rising in value. That will increase your resale value, and still let you live in a home you love during your time there.
Final thoughts on buying new construction homes in Philadelphia
Philadelphia is full of growing neighborhoods, primed for new construction homes that make great investments and places to live. If you're considering a new construction or buying a home that's being renovated, the best thing to do is get in touch early with a real estate team you trust.
We'd love to help you find and design a home that feels like you. Get in touch with us to start the process!